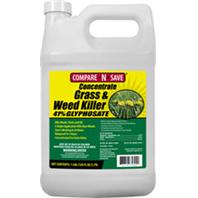 Note: This product is restricted to AK,HI. 
Effective against annual weeds, perennial weeds, trees, vines, shrubs, cattails, water hyacinth, water primrose, duckweed. Used outdoors, driveway, around home, flower beds, gardens, vegetable gardens, lawn renovation, and edging. Low odor water-based formulation. Rainproof in hours
Glyphosate 41%
Ragan And Massey - 41% Glyphosate Concentrate - Gallon product is categorised under Wholesale Other Brands, PA products, Wholesale Garden Supplies, Wholesale Lawn & Garden, Wholesale Fungicides/Repellents.