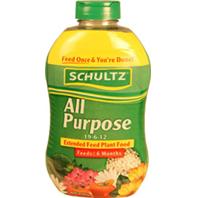 NOTE: This product is restricted to CA,OR,UT,WA
Feed once & you re done!. Great for feeding all plants, both indoors and out. Enriched with schultz extended feed plant food that feeds for up to 9 months. The slow release of nutrients virtually eliminates the chance of overfeeding. Easy to use and does not require mixing.
Schultz - All Purpose Extended Feed Plant Food 19-6-12--1 Lb product is categorised under Wholesale Schultz products, Wholesale Garden Supplies, Wholesale Lawn & Garden, Wholesale Soil Conditioners / Plant Aids.