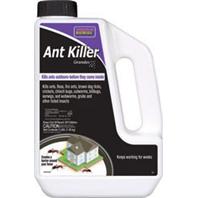 Note: This product is restricted to AK,CA,DC,HI. 
Fast acting and long lasting (up to 4 weeks) control of ants, fleas, ticks, chinch bugs, crickets and more. Excellent product for household perimeter treatment applications and more. Can be used as a lawn insecticide to control surface insects such as, ticks, ants, billbugs, grubs, fleas and many others. As a band treatment and for lawn use, 1 lb. will treat 500 square feet. Labeled for spot treatment of fire ant mounds. Made in the usa
Permethrin .25% Granular Insecticide
Bonide Products - Ant Killer Granules--4 Pound product is categorised under Wholesale Bonide Products Inc products, Wholesale Garden Supplies, Wholesale Lawn & Garden, Wholesale Animal & Insect Control.