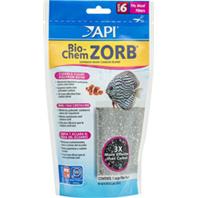 • Superior Removal Of Synthetic and Naturally Occurring Organic Pollutants Including Colors, Odors, Heavy Metals, and Toxic Gas
• Features The Highest Grade Resin/Carbon Filtration Media
• Does Not Remove Trace Elements From Saltwater Aquariums
• Makes Water Clear By Removing Pollutants That Cause Discoloration and Foul Odors
Ingredients: Chemical filtration media. Composed of two organic scavenger resins and two ion-exchange resins. Also contains a high porosity activated carbon. Filters water to a level not achieved by carbon alone.
Aquarium Pharmaceuticals - Bio-Chem Zorb Pouch - SIZE 6/LARGE product is categorised under Wholesale Aquarium Pharmaceuticals Inc products, Wholesale Pet Products, Wholesale Aquarium Products, Wholesale Maintenance, Wholesale Accessories.