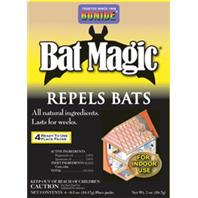 Note: This product is restricted to DC,IN,NM. 
Rid your house and outbuildings of bats safely and without harm. Fast acting repellent lasts for up to 30 days. Use in attics, behind shutters, and anywhere else bats hide. Safe formula will not harm these beneficial animals but will make them relocate. Made in the usa.
Peppermint Oil, Spearmint Oil, Corn Cobs
Bonide Products - Bat Magic Bat Repellent--4 Pack product is categorised under Wholesale Bonide Products Inc products, Wholesale Garden Supplies, Wholesale Lawn & Garden, Wholesale Animal & Insect Control.