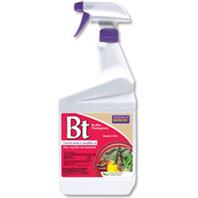 Can be used on fruits, vegetables and ornamentals to control worms and caterpillars. Wont harm beneficial insects. Controls caterpillars, loopers, cabbageworms, hornworms, leaf folders and leaf rollers. Approved for organic gardening.
15% Bacillus Thuringensis
Bonide Products - Bt Thuricide Spray Ready To Use--1 Qt product is categorised under Wholesale Bonide Products Inc products, Wholesale Garden Supplies, Wholesale Lawn & Garden, Wholesale Animal & Insect Control.