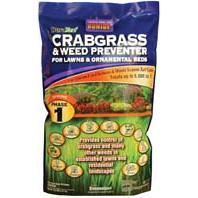 Note: This product is restricted to AK,DC,HI.  
Prevents germination of crabgrass and other grassy lawn weeds. Premium turf food with 20 percent slow release nitrogen. Contains vital-x micronutrients for full fertilizer benefits. . .
Dementia
Bonide Products - Crabgrass Preventer Without Fertilizer - 5000 Sq Ft product is categorised under Wholesale Bonide Products Inc products, Wholesale Garden Supplies, Wholesale Lawn & Garden, Wholesale Fertilizers & Plant Food.