Iconic Pet - Handy Stainless Steel Pet Travel Water Bottle With Drinking Bowl - 750Ml (Black Cap) - for Dog/Cat
UPC:
601393520344 (# 52364-92811-52364)
The Handy Stainless Steel Pet Travel Water Bottle with a drinking Bowl is a gift to your pet (dogs and cats). It is an easy to use bottle with a twist and open lid combination. The bottle is designed for pets to drink naturally. You can easily store water and pour it for your pet on the go. This means your dog stays hydrated at work and play while reducing the risk of getting affected by waterborne diseases. The bottle easily fits cup holders in cars and bikes perfectly. You can take the handy bottle wherever your pet goes with you, like on a walk, a hike, bike ride in the park, on beaches, vacations or on road trips and ensure that your dog remains hydrated and happy all the time.
Suggested Retail price:

$17.99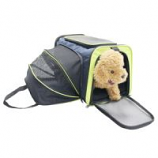 Cozy Ventilated One-Side Expandable Pet Travel Carrier for Dogs and Cats for pets up to 20 lbs
UPC:
601393515821 (# 51582-108977-51582)
Now commuting with your pet will no longer be a hassle. Cozy One-Side Expandable Pet Travel Bag acts as the perfect containment unit for cats and dogs up to 20 lbs. You can now carry pets from one place to another in much style due to this bags contemporary design and vibrant lime green hue, accompanied with a navy blue color.
Suggested Retail price:

$49.99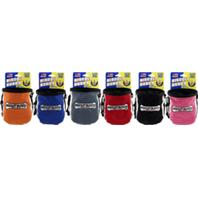 Petsport - Biscuit Buddy Treat Pouch - Assorted - 8 Cup Capacity
UPC:
713080500109 (# 066341-83274-50010)
• Versatile Swivel Hook and Belt Clip Make It Easy To Wear Or Store
• Extra Zipper Pocket and D-Ring For Money, Keys, Clicker, Bags, and More
• Cinch Closure Keeps Treats Fresh and Handy
• Great For Training
Suggested Retail price:

$9.49