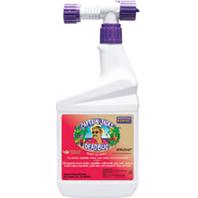 Note: This product is restricted to AK,HI. 
Contains the all-natural insecticide spinosad. Kills bagworms, borers, beetles, caterpillars, codling moth, gypsy moth, loopers, leaf miners, spider mites. Also kills tent caterpillars, thrips. Use on fruits, vegetables, berries, citrus, grapes, nuts and ornamentals. Made in the USA.
Spinosad, A Mixture Of Spinosyn A And Spinosad D, And Other Ingredients
Note: Restricted in AK, HI
Bonide Products - Captain Jack S Deadbug Brew Ready To Spray--1 Quart product is categorised under Wholesale Bonide Products Inc products, Wholesale Garden Supplies, Wholesale Lawn & Garden, Wholesale Animal & Insect Control.