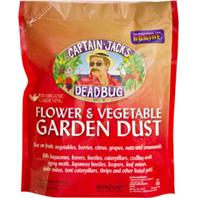 Note: This product is restricted to AK,DC,HI.  
Excellent replacement product for rotenone insecticides. Contains the all-natural insecticide spinosad. Extensive label for use on vegetable crops. Provides excellent control of bagworms, leaf miners, beetles, caterpillars and colorado potato beetle. Made in the usa.
Spinosad, A Mixture Of Spinosyn A And Spinosyn D, And Other Ingredients
Bonide Products - Captain Jacks Deadbug Brew Dust--4 Pound product is categorised under Wholesale Bonide Products Inc products, Wholesale Garden Supplies, Wholesale Lawn & Garden, Wholesale Animal & Insect Control.