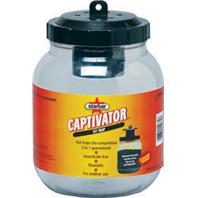 Note: This product is restricted to CA. 
Traps come complete with 1 tube of attractant. One-way entry system keeps flies in the trap. Insecticide free.. Container is reusable made of heavy-plastic. Made in the USA.
Patented Attractant Uses Fly Pheromones To Attract Flies.
Starbar - Captivator Fly Trap-2 Quart Cap product is categorised under Wholesale Starbar products, Wholesale Garden Supplies, Wholesale Lawn & Garden, Wholesale Animal & Insect Control.