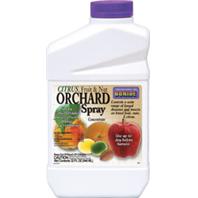 Controls a wide range of fungal diseases and insects on listed fruit, nuts, citrus, vegetables, ornamentals, plants and lawns. Use up to the day of harvest. All natural formula. Insecticide, fungicide and miticide. Made in the USA.
Sulfur And Pyrethrin
Bonide Products - Citrus Fruit, Nut & Orchard Spray Concentrate--1 Quart product is categorised under Wholesale Bonide Products Inc products, Wholesale Garden Supplies, Wholesale Lawn & Garden, Wholesale Animal & Insect Control.