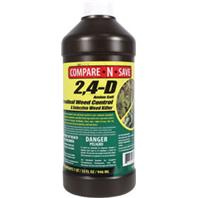 Note: This product is restricted to AK,AZ,HI,NY. 
For control of many broadleaf weeds and brush control in corn, soybeans (preplant), small grains, pastures, and range lands. Can be used in non-crop areas such as lawns, ornamental turf, drainage ditchbanks, and fence rows. Also for aquatic weed control, control of trees by injection, and tank mixes
Dimethylamine Salt Of 2,4-Dichlorophenoxyacetic Acid
Ragan And Massey - Compare N Save 2,4D Amine Broadleaf Weed Killer - 32 Ounce product is categorised under Wholesale Other Brands, PA products, Wholesale Garden Supplies, Wholesale Lawn & Garden, Wholesale Chemical Pesticides.