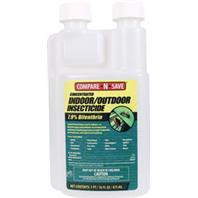 Note: This product is restricted to AK,HI,NY. 
Control pests indoors in interiorscapes and outdoors on ornamentals and lawns in landscaped areas. Contains bifenthrin. Controls ants, aphids, armyworms, centipedes chinch bugs, cockroaches, fire ants, fleas, flies, grasshoppers, mites,. Mole crickets, mosquitoes, scorpions, spiders, ticks, wasps, and other insect pests.
Bifenthrin
Ragan And Massey - Compare N Save In/Outdoor Insect Control Concentra - 16 Ounce product is categorised under Wholesale Other Brands, PA products, Wholesale Garden Supplies, Wholesale Lawn & Garden, Wholesale Chemical Pesticides.