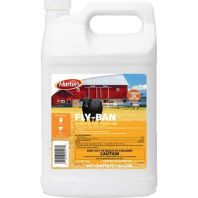 Controls lice and flies on beef cattle lactating and non-lactating dairy cattle and calves when applied as apour-on mist s. Controls keds on sheep and lambs when applied as a pour-on.. Controls flies on horses when applied as a wipe-on pour-on or ready to use spray. Use sites: horses beef cattle dairy cows sheep lambs and animal housing.. .
7.4% permethrin 7.4% piperonyl butoxide
Control Solutions - Martin'S Fly-Ban Synergized Pour-On - 2.5 Gallon product is categorised under Wholesale Control Solutions products, Wholesale Pet Products, Wholesale Livestock Supplies, Wholesale Sheep Products, Wholesale Insecticide On Animal.