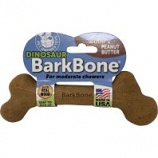 Pet Qwerks - Dinosaur Barkbone With Real Wood - Peanut Butter - Large
UPC:
850000085305 (# 066258-112811-DBW4)
Offers a variety of comfortable chewing surfaces for your pups.. Designed for MODERATE and GENTLE chewers who don't like to chew on harder nylon dog bones.. Super safe! They're natural looking and feeling.. Non-toxic. Not edible. Allergen-free. Contains no peanuts.. .
Suggested Retail price:

$10.99