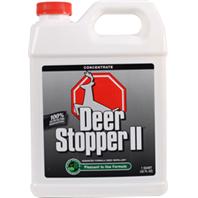 Note: This product is restricted to NM,WA. 
This highly effective product works to effectively stop damage caused by deer and rabbits.. Made of organic ingredients.. Formula lasts for up to 30 days, regardless of weather including rain, snow and regular watering. Safe for use around fruits and vegetables. Dries clear and odor free. Works by smell, taste and feel. Made in the usa
Active Ingredients: Putrescent Whole Egg Solids, Cinnamon Oil, Clove Oil
Messinas - Deer Stopper Ii Advanced Deer Repellent Conc - Quart product is categorised under Wholesale Messinas products, Wholesale Garden Supplies, Wholesale Lawn & Garden, Wholesale Fungicides/Repellents.