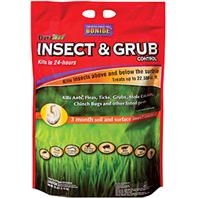 Only one application controls insects both above and below the soil surface. Fast acting season long control of grubs cranefly billbugs chinch bugs weevils ticks fleas and more. Protects from top to bottom with a wide application window so timing is not critical like it is with other products. Also makes a great perimeter treatment around premises. .
Imidacloprid Lambda-Cyhalothrin And Other Ingredients
Bonide Products - Duraturf Insect & Grub Control - 15M / 18 Pound product is categorised under Wholesale Bonide Products Inc products, Wholesale Garden Supplies, Wholesale Lawn & Garden, Wholesale Chemical Pesticides.