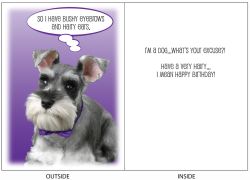 .
OUTSIDE: So I have bushy eyebrows and hairy ears.
INSIDE: I'm a dog...what's your excuse?! Have a very hairy...I mean happy birthday!
Cards are printed at a professional printing facility in the USA. They are 5 x 7, made of high quality 12 pt stock, and are UV coated, which provides a high gloss and protection from fading. Each card comes with a white envelope. A unique UPC is printed on the back of each card along with the name of the pet and card number. We also supply backer cards, which lists the occasion name (i.e. Birthday, friendship, etc.).
DogTales4You - Harry Brows Card-BIRTHDAY-#59 - 5x7 Inch product is categorised under Wholesale Dog Tales 4 You LLC products, Wholesale Pet Products, Wholesale Dog Products, Wholesale Cards, Wholesale Greeting Cards.