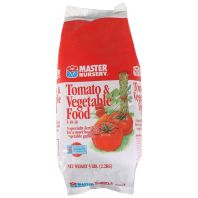 Master nursery label. Promotes even growth without excess foliage. High p helps promote quality veggies. Potash aids in sugar and starch development in fruits. High ca helps to prevent blossom end rot.
Ammonium Sulfate Polymer Coated Urea Mono Ammonium Phosphate Muriate Of Potash Sulfate Of Potash Magnesia Limestone Elemental Sulfur Iron Sucrate Manganese Sucrate Zinc Sucrate Humic Acids
E B Stone -Mn - Tomato And Vegetable Plant Food 5-10-10 - 5 Pound product is categorised under Wholesale Other Brands, PA products, Wholesale Garden Supplies, Wholesale Lawn & Garden, Wholesale Fertilizers & Plant Food.