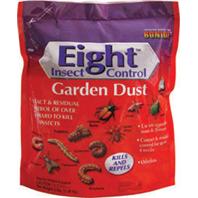 Note: This product is restricted to AK,HI. 
A long-lasting insecticide which controls over 55 different insects. Kills and repels insects for up to 30 days. For use on vegetables, roses and flowers. Provides residual control of insect pests for up to 4 weeks. Dust is tinted green to better blend with plant foliage, can be used up to the day of harvest on select plants. Provides excellent control of bagworms, cutworms, cabbageworms, japanese beetles, tent caterpillars and more. Made in the usa
Permethrin 0.125% Insecticide Dust
Bonide Products - Eight Insect Control Garden Dust--3 Pound product is categorised under Wholesale Bonide Products Inc products, Wholesale Garden Supplies, Wholesale Lawn & Garden, Wholesale Animal & Insect Control.