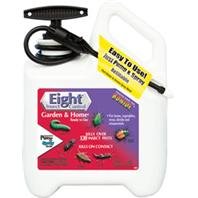 Note: This product is restricted to AK,DC. 
Traditional broad spectrum insect control. Ideal for houseplants. Kills fungus, gnats, scales, whiteflies, thrips, aphids, spider mites, mealy bugs and more. For residential use only. Made in the usa.
Permethrin
Bonide Products - Eight Insect Control Garden & Home Ready To Use--1.33 Gallon product is categorised under Wholesale Bonide Products Inc products, Wholesale Garden Supplies, Wholesale Lawn & Garden, Wholesale Animal & Insect Control.