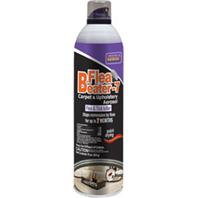 Flea and tick killer. Stops re-infestation by fleas for up to 7 months. Quick drying. For use around apartments, homes, hospitals, hotels, offices, schools and other commercail buildings. .
Contains Pyriproxyfen 0.10%, Pyrethrin 0.05%, N-Octyl Bicycloheptene Dicarboximide 0.40%, Permethrin 0.40%
Bonide Products - Flea Beater 7 Carpet And Upholstery Aerosol--15 Oz product is categorised under Wholesale Bonide Products Inc products, Wholesale Garden Supplies, Wholesale Lawn & Garden, Wholesale Chemical Pesticides.