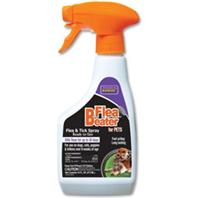 Kills fleas and ticks for up to 30 days. For use on dogs, cats, puppies and kittens over 8 weeks of age. Controls fleas, listed roaches, crickets and flying insects such as mosquitoes and gnats. Fast acting and long lasting.
Contains Lambda-Cyhalothrin
Bonide Products - Flea Beater Pet Flea & Tick Spray Ready To Use--1 Pt product is categorised under Wholesale Bonide Products Inc products, Wholesale Garden Supplies, Wholesale Lawn & Garden, Wholesale Animal & Insect Control.