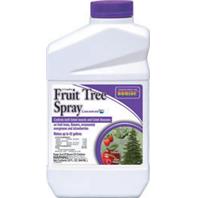 Note: This product is restricted to CA. 
Controls both insects and diseases on fruit trees, flowers, evergreens and strawberries. Easy to use; mixes with water instantly, no pre-mixing. Apply using a hose-end sprayer or tank sprayer. Made in the usa.
Captan 12%, Malathion 6%, Carbaryl .3%
Bonide Products - Fruit Tree Spray Concentrate--1 Quart product is categorised under Wholesale Bonide Products Inc products, Wholesale Garden Supplies, Wholesale Lawn & Garden, Wholesale Chemical Pesticides.