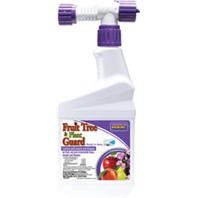 Controls both insects and diseases on fruit, nut and ornamental trees, shrubs, and flowers. Excellent multi-purpose performance for the hobby home orchardist. Made in the USA.
Lambda-Cyhalothrin, Boscalid And Pyraclostrobin
Bonide Products - Fruit Tree & Plant Guard Ready To Spray--16 Ounce product is categorised under Wholesale Bonide Products Inc products, Wholesale Garden Supplies, Wholesale Lawn & Garden, Wholesale Animal & Insect Control.