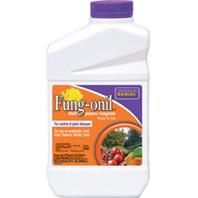 Note: This product is restricted to AK,HI. 
Controls many diseases on roses, shrubs, flowers, vegetables, fruit and shade trees. Control diseases such as leaf spots, rust, blights, fruit rots, mildew, scab, fungus, and other diseases. Use as little as 1-1/2 teaspoons per gallon. Mixes readily with water. Best applied with a tank-type sprayer. Highly recommended to add a spreader-sticker to the spray mix for better adhesion/coverage on the plant leaf. Made in the USA.
Chlorothalonil 29.6% (Daconil Fungicide)
Note : This product is Restricted in AK, HI
Bonide Products - Fung-Onil Multi-Purpose Fungicide Concentrate--1 Quart product is categorised under Wholesale Bonide Products Inc products, Wholesale Garden Supplies, Wholesale Lawn & Garden, Wholesale Animal & Insect Control.