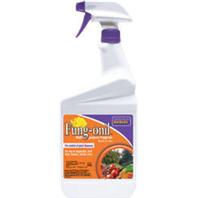 Note: This product is restricted to HI. 
Ready-to-use trigger spray container, no measure, no mix, no mess. The simple solution for disease free roses, flowers, fruit and ornamental trees, shrubs and vegetable gardens. Controls virtually all major garden disease problems. Provides excellent control of hard-to-control plant diseases. Thorough uniform coverage of plants is necessary for good disease control. Made in the USA.
Chlorothalonil 0.087% (Daconil Fungicide)
Note: This Product is restricted in HI
Bonide Products - Fung-Onil Multi-Purpose Fungicide Ready To Use--1 Quart product is categorised under Wholesale Bonide Products Inc products, Wholesale Garden Supplies, Wholesale Lawn & Garden, Wholesale Animal & Insect Control.