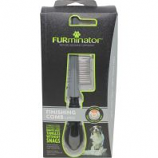 Furminator - Furminator Finishing Comb - Large
UPC:
811794013523 (# 026118-112295-104015)
For curly long silky and wiry coats. After brushing small pin mats and tangles often remain and are easily removed by a comb. For best results brush first with a comb. Rounded stainless steel teeth rotate 360 degrees and gently turn to remove small mats and tangles with very little tugging. Ergonomic handle feels secure and comfortable in your hand.
Suggested Retail price:

$12.19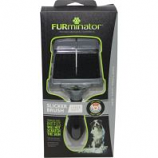 Furminator - Furminator Soft Slicker Brush - Large
UPC:
811794013479 (# 026119-112296-104010)
Separates and untangles fur. The soft stainless steel bristles will not scratch the skin. Reduce loose hair on your pet in your home and on you. Dual flex head design. Ergonomic handle for comfort and ease of use.
Suggested Retail price:

$16.49