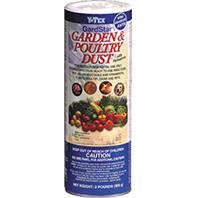 Broad spectrum ready-to-use insecticide for outdoor residential use only. For use on vegetable and ornamental plants, poultry, swine and pets. Also controls ants. Made in the USA.
Ingredients:
Active Ingredient: Permethrin
Durvet - Gardstar Garden And Poultry Dust - 2 Pound product is categorised under Wholesale Durvet products, Wholesale Pet Products, Wholesale Livestock Supplies, Wholesale Cattle Products, Wholesale Insecticide Feedthrough.