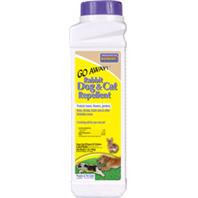 Note: This product is restricted to IN,NM. 
Effective, natural formulation- made with cinnamon, garlic and clove oils. Works through smell to repel. Especially effective on dogs and cats. Ready to spray provides economical coverage of large areas. Will not harm pets or animals. Made in the USA.
Cinnamon Oil, Thyme Oil, Fuller s Earth And Mineral Oil
Note: This Product is restricted in IN, KY, NM
Bonide Products - Go Away Rabbit Dog & Cat Repellent Ready To Use--1 Pound product is categorised under Wholesale Bonide Products Inc products, Wholesale Garden Supplies, Wholesale Lawn & Garden, Wholesale Animal & Insect Control.