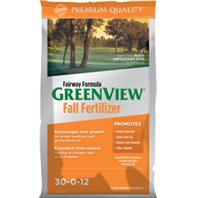 Note: This product is restricted to CA,PR. 
Specifically designed for use in the fall it helps established grass continue to grow strong, vigorous roots. Prepares grass for surviving winter stress. Helps maintain a thick, green lawn through the fall months and provides for an early spring greening. A premium quality mix of technologies appropriate to the season, to provide even, steady nitrogen release. Ideal fertilizer formulation for lawns less than five years old. Made in the USA
Greenview - Greenview Fairway Formula Fall Fertlizer 30-0-12 - 10000 Sq Ft product is categorised under Wholesale Greenview products, Wholesale Garden Supplies, Wholesale Lawn & Garden, Wholesale Chemical Herbicides.