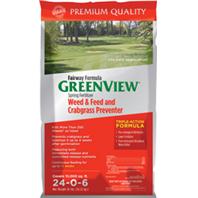 Note: This product is restricted to AK,CA,HI. 
Spring fertilizer and crabgrass preventer. Kills more than 250 weeds. Prevents crabgrass and destroys it up to 4 weeks after germination. Featuring both immediate release and controlled release nutrients. Continuous feeding for up to 12 weeks. Made in the USA
Ingredients:
Active Ingredients: 2,4-D, Mecoprop-P, Dicamba, Dithiopyr.
Greenview - Greenview Fairway Formula Weed & Feed 24-0-6 - 10000 Sq Ft product is categorised under Wholesale Greenview products, Wholesale Garden Supplies, Wholesale Lawn & Garden, Wholesale Chemical Herbicides.