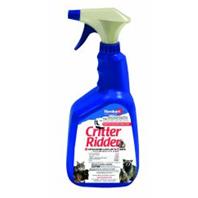 Note: This product is restricted to CA. 
Repels skunks, groundhogs, squirrels, raccoons, chipmunks, dogs and cats. One application lasts up to 30 days. Repels by odor and taste. Ideal for landscaped areas, lawns & gardens, ornamentals, garbage cans and birdfeeders. Made in the USA
Oil Of Black Pepper (0.480%); Piperine (0.185%); Capsaicin & Related Capsaicinoids (0.032%).
Woodstream Lawn & Garden - Havahart Critter Ridder Animal Repellet Rtu Spray--320 Square Feet product is categorised under Wholesale Woodstream Lawn & Garden products, Wholesale Garden Supplies, Wholesale Made in the USA.