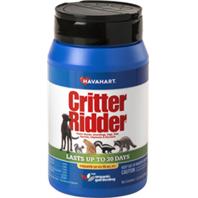 Repels skunks, groundhogs, squirrels, raccoons, chipmunks, dogs and cats.. One application lasts up to 30 days.. Repels by odor and taste. Ideal for landscaped areas, lawns & gardens, ornamentals, garbage cans and birdfeeders. Made in the USA
Essential Oil Of Black Pepper, Piperine, Capsaicin And Related Capsaicinoids.
Woodstream Lawn & Garden - Havahart Critter Ridder Granular Animal Repellent--75 Square Feet product is categorised under Wholesale Woodstream Lawn & Garden products, Wholesale Garden Supplies, Wholesale Made in the USA.