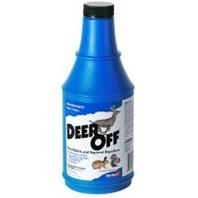 Deer, rabbit, and squirrel repellent. Yields about 1 gallon of ready to use spray application. Use on edible crops, bulbs, gardens, lawns, and landscaped areas. Repels by odor and taste. 1 application lasts up to 3 months.. Made in the USA
Active Ingredients: Putrescent Whole Egg Solids, And Capsaicin, Repels By Odor And Taste. Safe On Food Crops.7:1 Mix.
Woodstream Lawn & Garden - Havahart Deer-Off Repellent Concentrate--16 Ounce product is categorised under Wholesale Woodstream Lawn & Garden products, Wholesale Garden Supplies, Wholesale Made in the USA.