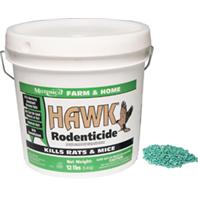 Kills warfarin resistant norway rats. Bait can be used indoors or out. Rats and mice die in 4 or 5 days after eating.. Contains 12lb of loose pelleted bait. Made in the usa.
Bromadiolone (Single Feed Anticoagulant) - Contains 12lb Of Loose Pelleted Bait.
Motomco - Hawk Rodenticide Pelleted Bait-12 Pound product is categorised under Wholesale Motomco products, Wholesale Garden Supplies, Wholesale Made in the USA.