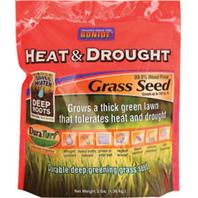 Special blend for heat and drought areas. Aggressive growth for fast repair and rejuvenation. Especially effective in warm climates & areas where irrigation is not available. Blend of 3 highly durable tall fescue varieties.
Falcon Iv Tall Fescue, Shenandoah Elite Tall Fescue, Shenandoah Ii Tall Fescue
Bonide Grass Seed - Heat And Drought Grass Seed--3 Pound product is categorised under Wholesale Bonide Products Inc products, Wholesale Garden Supplies, Wholesale Lawn & Garden, Wholesale Fertilizers & Plant Food.