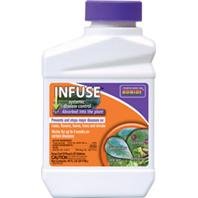 Note: This product is restricted to DC,HI.  
Provides broad spectrum control of disease on roses, flowers, lawns, trees and shrubs. Proven to encourage turf rooting and improve color in woody shrubs. Systemic-action give total plant protection. Residual action lasts for up to 4 weeks on certain diseases. Infuse is a clear fungicide, no noticeable residue after spraying. Made in the USA.
1.55% Propiconazole (Banner Fungicide)
Bonide Products - Infuse Lawn & Landsape Systemic Disease Control--1 Pint product is categorised under Wholesale Bonide Products Inc products, Wholesale Garden Supplies, Wholesale Lawn & Garden, Wholesale Animal & Insect Control.