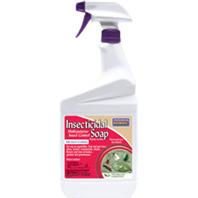 Note: This product is restricted to HI. 
Kills insects such as, adelgids, aphids, earwigs, scale, thrips, whitefly, wooly aphid and more on contact. Great for houseplants, vegetables, flowers, fruits, roses and shrubs. Will not burn plant foliage. Patented formula does not persist in the environment and may be used up to day of harvest. Preferred by organic gardeners. Made in the USA.
Potassium Salts Of Fatty Acids Derived From Plants
Bonide Products - Insecticidal Soap Multi-Purpose Ready To Use--1 Quart product is categorised under Wholesale Bonide Products Inc products, Wholesale Garden Supplies, Wholesale Lawn & Garden, Wholesale Animal & Insect Control.