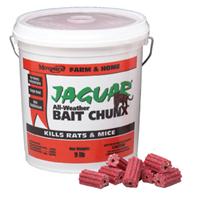 For heavy infestations. Kills in a single feed. Made in the usa. . .
Brodifacoum (Single Feed Anticoagulant) - Each Chunx Is 20 Grams.
Motomco - Jaguar All-Weather Bait Chunx Rat & Mouse Killer-20 Gm/9 Pound product is categorised under Wholesale Motomco products, Wholesale Garden Supplies, Wholesale Made in the USA.