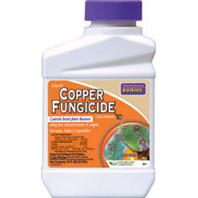 Note: This product is restricted to AK,DC. 
This patented formula allows for greatly expanded use patterns from turf to veggies and fruits to flowers. Provides excellent control of blights, leaf spots, rust, mold, mildews, scab and anthracnose. Labeled for disease control on roses, fruits, vegetables, ornamentals and turf. Controls diseases on many common houseplants. Organic, natural plant fungicide. Made in the USA.
Copper Octanoate (Copper Soap) 10%
Note: This Product is restricted in AK, DC
Bonide Products - Liquid Copper Fungicide Concentrate--1 Pint product is categorised under Wholesale Bonide Products Inc products, Wholesale Garden Supplies, Wholesale Lawn & Garden, Wholesale Animal & Insect Control.