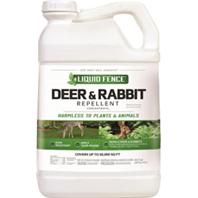 Works on scent, so animals don t have to take a bite to be repelled. Will stop the foraging cycle before it begins. Long lasting and rain resistant. Won t harm animals or plants. Made in the usa.
Active Ingredients: Garlic 3% Potassium Sorbate 0.4% Sodium Lauryl Sulfate 0.2% Other Ingredients: 96.4% (Water Whole Egg Xanthan Gum).
Liquid Fence - Liquid Fence Deer & Rabbit Repellent-2.5 Gallon Conc product is categorised under Wholesale Other Brands, PA products, Wholesale Garden Supplies, Wholesale Lawn & Garden, Wholesale Animal & Insect Control.