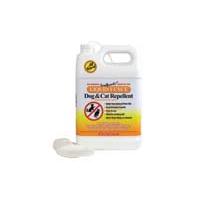 Note: This product is restricted to IN,NM. 
Keeps pets away from areas they don t belong such as lawns, flower beds and garden areas. Made with natural plant oils, it will not harm pets or plants. A great training aid that is easy to use. Won t harm plants. The orbital sprayer works upside down. Made in the usa
Active Ingredients: Citronella Oil 0.8% Eugenol 0.2% Sodium Lauryl Sulfate 0.2% Cinnamon Oil 0.2% Geraniol 0.1% Other Ingredients: 98.3% (Water Lime).
Liquid Fence - Liquid Fence Dog & Cat Repellent-Gallon product is categorised under Wholesale Other Brands, PA products, Wholesale Garden Supplies, Wholesale Lawn & Garden, Wholesale Animal & Insect Control.