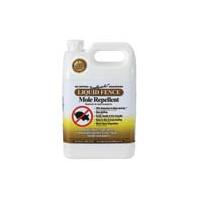 Note: This product is restricted to IN,NM. 
Formulated to coat earthworms and tender roots, making them undesirable food sources for hungry moles. The non-gelling formula means application with hose-end type sprayers will not clog. Easy-to-use and long lasting. Will not harm vegetation. Made in the usa.
Sodium Lauryl Sulfate, Castor Oil, Yellow Grease.
Liquid Fence - Liquid Fence Mole Repellent-1 Gallon Conc product is categorised under Wholesale Other Brands, PA products, Wholesale Garden Supplies, Wholesale Lawn & Garden, Wholesale Animal & Insect Control.