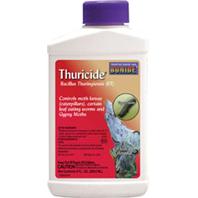 Controls caterpillars, loopers, cabbageworms, hornworms, leaf folders and leaf rollers. Won t harm beneficial insects.
Bacillus Thuringiensis Subsp. Kurstaki Strain Sa-12 Solids, Spores And Lepidopteran Active Toxins
Bonide Products - Liquid Thuricide Concentrate--8 Ounce product is categorised under Wholesale Bonide Products Inc products, Wholesale Garden Supplies, Wholesale Lawn & Garden, Wholesale Animal & Insect Control.