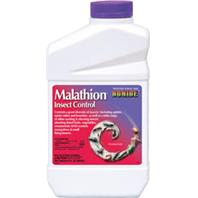 Note: This product is restricted to AK,CA,HI. 
Use on fruits, vegetables and ornamentals. One pint makes 50 gallons of spray, re-apply every 7 to 10 days for best control of targeted pests. Provides excellent control of spider mites, japanese beetle, aphids, lace bugs, thrips, maggots, and many more insects. Used to control mosquitoes and other small flying insects. Mixes readily with water and can be applied using a hose-end sprayer, tank-type sprayer or watering can. Made in the USA.
Cythion - 50.0%
Note:Restricted in AK, CA, HI
Bonide Products - Malathion Insect Control Concentrate--1 Quart product is categorised under Wholesale Bonide Products Inc products, Wholesale Garden Supplies, Wholesale Lawn & Garden, Wholesale Animal & Insect Control.