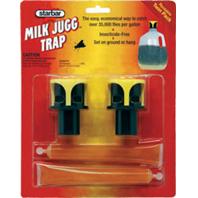 Economical way to catch over 35,000 flies per gallon. Set on ground or hang. Easy to use - just add water and attractant and pop on the top. Insecticide-free. Reusable.. Made in the usa
Kit Comes With 2 Attractants/2 Jug Traps/Patented Attractant Uses Fly Pheromones To Attract Flies// Trap Contents Should Be Agitated At Least Twice Weekly. Item#s-272477 And 528678 Attractant Can Be Used W This Product.
Starbar - Milk Jugg Fly Trap-2 Pack product is categorised under Wholesale Starbar products, Wholesale Garden Supplies, Wholesale Lawn & Garden, Wholesale Animal & Insect Control.