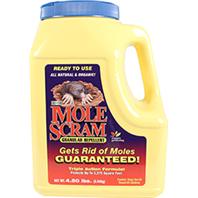 Covers up to 3,375 square feet. A dual-action granular mole repellent. Specially formulated to quickly drive moles away from lawn & garden. Does not kill or harm moles, it simply drives them away. All natural, organic and fully biodegradable.MADA IN USA

Active Ingredients: Castor Oil, Citronella Oil, Garlic Oil. Other Ingredients: Peanut Hulls.
Enviro Protection Ind-Mole Scram Granular Repellent-4.5 Pound product is categorised under Wholesale Enviro Protection products, Wholesale Garden Supplies, Wholesale Lawn & Garden, Wholesale Fungicides/Repellents.