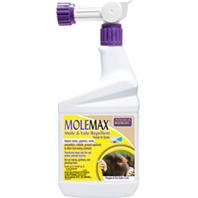 Note: This product is restricted to AK,DC,IN,NM. 
Apply to lawns to repel moles voles skunks rabbits and other burrowing animals. Attach to hose and spray, automatically mixes with the water treats up to 10,000 sq ft per quart bottle. Biodegradable, safe to use around children and pets. Use on lawns, gardens and planting beds. Kills the adult, larvae and egg stages of insects. Made in the usa
Castor Oil 100%
Bonide Products - Molemax Moler & Vole Repellent Ready To Spray--1 Quart product is categorised under Wholesale Bonide Products Inc products, Wholesale Garden Supplies, Wholesale Lawn & Garden, Wholesale Animal & Insect Control.